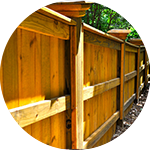 Wood is by far the most popular type of fence in America.  It provides the homeowner privacy and is also one of the most attractive options of fence.  With proper Maintenance (staining/sealing) wood fences can last for many years. They come in a variety of styles and heights that offers privacy and security while maintaining a traditional look.
Specifications:
Posts: 6″x6″, 4″x4″
Post Top: Caps, Points, Beveled, Copper
Height: 4′, 5′, 6′, 7′, 8′
Picket Spacing: Standard, 2", Board on Board
Picket Type: Standard, 1″x6″,  Decking Board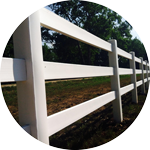 Vinyl is a popular alternative to wood.  Vinyl comes in a variety of colors and styles and provides the privacy most homeowners desire.  Vinyl is very resistant to the elements, it may require some rinsing, but is overall a very low maintenance option.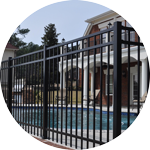 Ornamental fence is an extremely attractive way to secure your property, inspired by achieving the look of wrought iron at a lower price point.  it is a very low maintenance option and can be ordered in a variety of styles.  It is often used in conjunction with wood privacy and achieves a more high end look that some homeowners are looking for.  The powder coated finish is durable and requires minimal maintenance.
Specifications:
Options: Aluminum, Steel
Grade: Residential Grade, Commercial Grade
Height: 3′, 4′, 5′, 6′
Rails: 2 Rail, 3 Rail
Bottom: Standard, Flush Bottom
Add-ons: Puppy Picket, Finials, Rings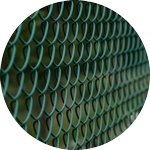 Chainlink
Chain link fences are popular because they are cost effective for achieving security.  They do not add much privacy to the homeowners property, but provide the basic functions of a fence.  Chainlink fences need little to no maintenance and come in several heights and colors.